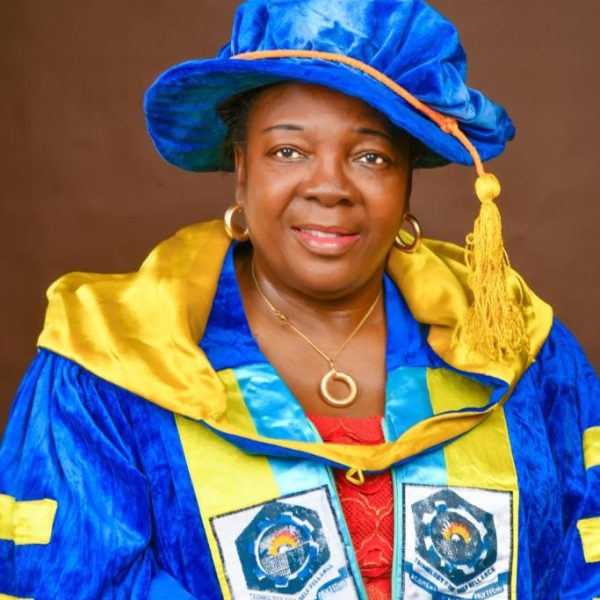 Mrs Rebecca Ijapari Kinjir
Mrs Rebecca Ijapari Kinjir was appointed Registrar of the Polytechnic on 2nd November, 2020.
She is an Indigene of Madagali Local Government Area of Adamawa State. Born 17th December, 1959 in Lassa town, Borno State. Rebecca Ijapari Kinjir started her elementary education at Central Primary School, Madagali from 1966–1972. She attended Government Girls Secondary School, (GGSS), Yola in 1973–1977 from where she proceeded to the College of Preliminary Studies, (CPS), Yola and obtained an IJMB certificate hwhich qualifies her admission into the University of Maiduguri (UNIMAID) where she graduated with B.Sc. (HONS) Chemistry Degree in 1983.
Upon her graduation, Mrs. Rebecca Ijapari Kinjir began her first working experience when she proceeded for the mandatory one year National Youth Service Corp, NYSC as a teacher at her alma-mater; Government Girls Secondary School, Yola in 1983 – 1984.
Immediately after her NYSC in 1984, Mrs. Rebecca I. Kinjir secured employment with the College of Preliminary Studies as Assistant Lecturer II and rose to Lecturer I after obtaining M.Sc. Analytical Chemistry from the University of Maiduguri in 1991.
She maintained this position when the defunct Gongola State government converted the College into Gongola State Polytechnic, Yola.
Mrs. Rebecca Ijapari I. Kinjir converted from the Academics to Non-academics cadre to become Senior Assistant Registrar in 1992.
From 1994-2003 the officer rose through normal promotion to the position of Deputy Registrar when the position of the then Registrar was declared vacant, Rebecca Ijapari Kinjir was appointed Acting Registrar on 19th December, 2018-10th May, 2019. The position the position she maintained until her appointment as substantive Registrar by His Excellency Rt. Hon. Ahmadu Umaru Fintiri with effect from 2nd November, 2020 to date.
While in the service of the Polytechnic, Madam Rebecca I. Kinjir attended several workshops, conferences and seminars which have adequately prepared her for all administrative challenges.